Great but Short Day.....We had to go grocery shopping sometime!
The morning routine has developed into a great time for independent work while I get cleaned up from breakfast and started on our day.
Cursive has been added into the mix, by the girls, not me. My 2nd grader is so motivated to do this. From what I've read, it should only help with reversing some of her letters and reading comprehension.
New: Silly Sentences
1 Popsicle stick per word; 1 mug per "Part of Speech"
Yesterday, we started writing down interesting words while I read aloud from Charlotte's Web. We put each word on a popsicle stick with the part of speech at the other end: noun, verb, adjective, adverb. We'll add more each day with each new story or great "new" word we encounter.
Today, we create "Silly Sentences" using these words and the kids loved it. They had to pick 1 stick from each "part of speech" or mug and then create & write the sentence.

Drawing Sticks
They LOVED it! And I loved their enthusiasm. I am hoping that learning the new words and then practicing them in context will sink the words right into their brains and lexicon.
Sticks and sentence. Now part of their daily journal.
Review: Life of Fred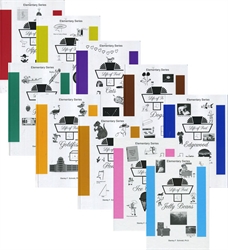 Click on the picture to see listing at Exodus Books online.
Only my 4th grader has been using this so far and she loves the story format. As the series is story based, she is reading them all starting at the beginning. After 3 days, she's on the 4th book and she's surprised to see little facts sprinkled here and there that she doesn't know.
Today's reading included pre-algebra and she LOVED it! Solving an equation for "x" made her eyes light up. I'm still going to have her continue with the books in order to ensure that nothing is missed but I think she'll be through the 8 elementary school (k-4th series: Apples thru Jelly Beans)by the end of next week.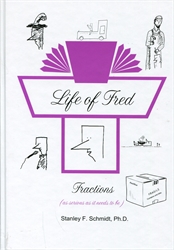 If she's still as enthusiastic, we'll continue with the next set, 5th-8th grade starting with fractions. If we didn't have other students following, I probably would have just started with the Fractions book.
However, the format in which the info is presented is interesting enough that I thought, even if she knows the information, it's a great review and there may be "tips & tricks" that would make iteven easier & faster for her. She is so resistent to practicing basic math facts. I think this book has tricked her into doing just that without her even knowing it.
Here's a link to the independent bookstore in Oregon where I bought ours:
Life of Fred: Elementary Set
. Amazon didn't sell them directly and I do really prefer to shop at local bookstores, whenever possible.